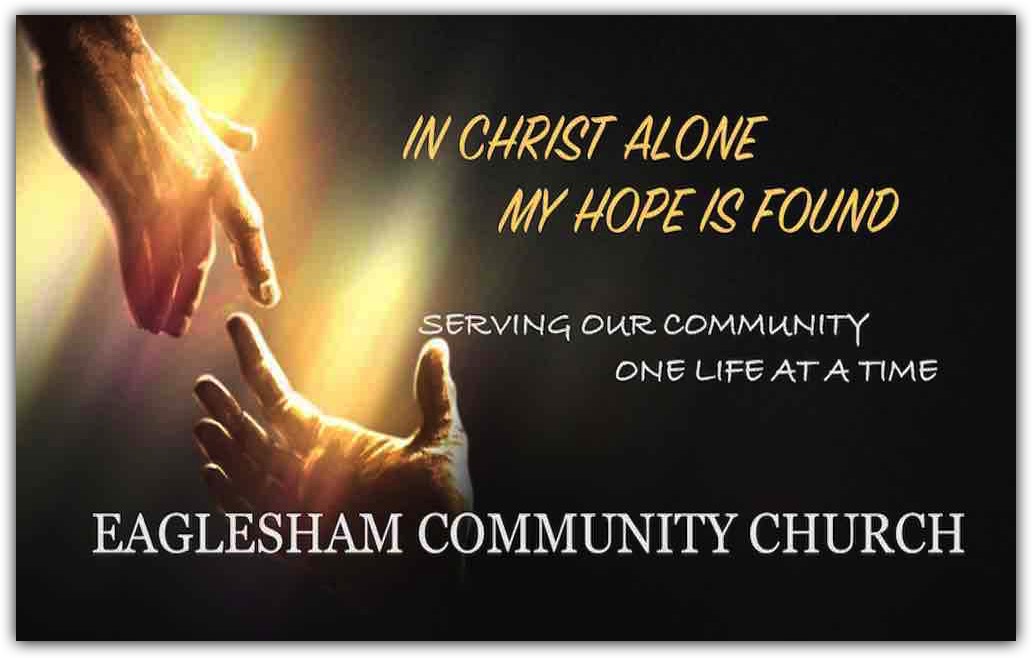 EAGLESHAM COMMUNITY CHURCH

Sunday Service: 10:00 AM

We are able to have up to 50 persons per service
Social distancing is being observed.

Please call or text Dave or Barb and let us know if you are planning to come.

780-359-2077 (Land line)
780-837-5349 (cell)
pastor@eagleshamchurch.ca

Pastor: Dave Squires

Come and join us, you are WELCOME
Covid 19 Message / Message Covid 19


En français: voir ci-dessous



It appears a great evil is coming upon the world. Many people in the world are afraid but God says, do not be afraid, do not despair.

When terrible times like this come upon the people of the world people look to God for help.

In God's book, the Bible He says do not be afraid, He has written, " God is our refuge and strength, a very present help in trouble. Even though the earth be removed and the mountains be carried into the middle of the sea. The Lord is with us. (See Psalm 46)

Do not be afraid of the terror by night, nor of the weapons of the day, not even of the pestilence that comes in the darkness (like the coronavirus) or of the destruction that destroys during the day. (See: Psalm 91)

God also says,"Do not worry because of those who do evil. For they shall soon be destroyed. Trust in the Lord and do good. Delight yourself also in the Lord, Trust also in Him and He will give you what you need. The Lord will help people and deliver people who put their trust in Him. (For more encouragement see Psalm: 37)

God says: If my people, who are called by My name, will humble themselves and pray and seek me and turn from their evil ways, then I will forgive their sin and will heal their land. (see: 2 Chronicles 7)

Please join us in prayer at 9:00 AM and 3:00 Pm
Every day to pray for the quick removal of this virus.






Message



Soyez encouragés Chers peuples de la terre.

Il semble qu'un grand mal tombe sur le monde. Beaucoup de gens partout ont peur, mais Dieu nous dit: n'ayez pas peur, ne désespérez pas.

Lorsque des moments terribles comme ceci ce produise, les gens du monde doive se tournent vers Dieu pour obtenir de l'aide.

Dans le livre de Dieu, la Bible qu'il nous dit n'ayer pas peur, il a écrit: «Dieu est notre refuge et notre force, une aide très présente dans les ennuis. Même si la terre est enlevée et les montagnes transportées au milieu de la mer. Le Seigneur est avec nous. (Voir Psaume 46)

N'ayez pas peur de la terreur nocturne, ni des armes du jour, pas même de la peste qui vient dans l'obscurité (comme le coronavirus) ou de la destruction qui détruit pendant la journée. (Voir: Psaume 91)

Dieu dit également: «Ne vous inquiétez pas à cause de ceux qui font le mal. Car ils seront bientôt détruits. Faites confiance au Seigneur et faites le bien. Réjouissez-vous également dans le Seigneur, ayez également confiance en lui et il vous donnera ce dont vous avez besoin. Le Seigneur aidera les gens et délivrera les gens qui ont confiance en lui. (Pour plus d'encouragement, voir Psaume: 37)



Dieu dit: Si mon peuple, qui est appelé par mon nom, s'humiliera et priera et me cherchera et se détournera de ses mauvaises voies, alors je pardonnerai son péché et guérirai sa terre. (voir: 2 Chroniques 7)




Veuillez vous joindre à nous dans la prière à 9h00 et 15h00
Chaque jour pour prier pour l'élimination rapide de ce virus.
Box 298
Eaglesham Alberta
T0H IH0

4905 51 St, Eaglesham, AB T0H 1H0

Handicap access

Contact Pastor Dave:
780-359-2077

ObscureMyEmail
We are an Evangelical Free Church
located in the central Peace River Country

Ask and it will be given to you; seek and you will find; knock and the door will be opened to you.
For everyone who asks receives; the one who seeks finds; and to the one who knocks, the door will be opened. Matt. 7:7